We
Eyebrows. Today I'd like to talk about Eyebrows. Eyebrows are one of the first things a person sees on the face. If too short or too long, this can change the whole appearance of the face.

Take Gwen Stefani for example.

We definitely like her with fuller brows.

First of all, I'd like to tell you more about our eyebrows. The main responsibility of our eyebrows is to prevent moisture (mostly from the salty sweat and rain) from flowing down to our eyes. Our eyebrows act as a ridge to protect our eyes below.
In the same way, these brow ridges also shade the eyes from sunlight, and also preventing certain debris such as dandruff and other small object from falling into our eyes.
Eyebrows also play an important role in our expressions of communication by expressing certain emotions like surprise or anger. It has also become more common for men to pluck their eyebrows, especially in the middle of the brows, to appear more youthful and attractive.
I often help my boyfriend to pluck his brows. He admits it makes him look less tired, and much healthier. I'll post some pics of him before and after soon.
Eyebrow Shaping
Tweezers are most commonly used for plucking to shape eyebrows. Threading eyebrows has also become a popular method as it does not pull at the skin. However, it is advised that you should use an eyebrow razor to shave on the areas on top of the brow.
"But if I shave, hair will grow faster and thicker!"
This is true. But by plucking or waxing, hair will eventually damage your hair follicle.
wikipedia


Think about it, you pluck your eyebrows let's say twice a week. And in the same places. That's eight times a month, and in a year that's ninety-six times. In ten years, that is nine hundred and sixty times you damage each hair follicle. Ultimately, your hair follicle "dies" and there will no longer be hair in that area.

So when you become old, and you need thicker brows, or any hair on the brows at all to look healthier, you can only draw them on as your hair follicle has been damaged throughout the many years of plucking.

That's good if we want to get rid of armpit hair for good. This is why we often use waxing, rather than shaving. Do not shave armpit hair. I repeat. This is why I always advise clients to shave the areas above the brow, and to pluck the excessive hairs under the brow.
The Eyebrow Shape



I have used a model for my example today from Dear magazine that I found on the web. This is the original picture. What do you notice first about her eyebrows?
Slightly short, and one brow is higher than the other, but otherwise quite perfect. Some good news: it is a fact that majority of people will have high-low brows, so it is very common and very normal. I'm so proud, I have them too!
A beauty professor once told me, "It doesn't matter if you have high-low brows. We all have them. As long as one is not a curvy shape, and one is an upside-down nike."
See what I mean? Weird. Therefore, the shape of your brows is actually very important. It is one of the first things a person notices about you. It's all about first impressions. And women need first impressions.

Here I've photoshopped the image to show two more examples.
Thin Brows

I really, really dislike this the most. I don't know why it's become some sort of mass trend. A thin brow makes you look unhealthy, compared with a person with full brows. An even thinner brow? Well, you'll end up looking like the Mona Lisa, or my personal favorite…..By the heroin junkie!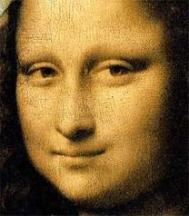 Hmm… very attractive (!)

So please, don't do a Mona Lisa. It's social suicide.

Thick and Close Brows
Hmm.. definitely better than having no brows at all! But a brow too close or too thick makes it look like you're frowning or angry all the time.

So how should a brow look like? Natural. Don't go overdoing your brow by changing it to a shape it wasn't born to grow like. Don't get too overexcited at plucking away that you end up making your brow look like the Mona Lisa's.

Remember, we don't want any modern Mona Lisa's running around. Instead, change it naturally. Do not follow street trends. It may look good for them, but it may not look good for you.
How to create the Your Perfect Brow.
Every brows can be perfect. Use a ruler, the end of a brush stick, or any long material to measure the correct shape of your natural brow. Follow this image below.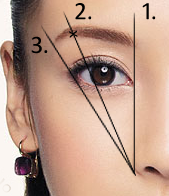 1. First, place the ruler exactly straight to the inner corner of your eye like in the image. Your brow should START from this point.
2. Second, put the ruler on the side of the nose, going diagonally up passing on the side of your iris, finally, ending to the point where your brow should be at its "highest point," labeled X in the picture.
3. Then, place the ruler again starting from the side of your nose, diagonally to the end corner of your eye. The ruler should then show you where your brow should finish.

Here I have used "Angelababy" as my example. Her brows are actually very beautiful, but for some reason in this image I found that it could be even more perfect. See the difference:
BEFORE: AFTER: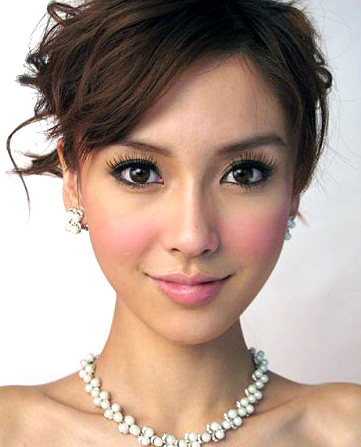 Finally, you can end up with a pair of very beautiful brows!
How do you shape your eyebrows? Did you find these tips helpful?