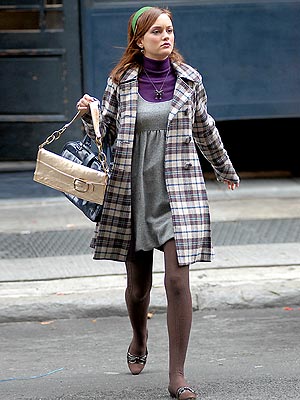 Q: Doesn't Leighton Meister look cute here?
A: As usual, yes.
And why? It's the peacoat! True, plaid may be a little more than we mere mortals can pull off, but that doesn't mean there aren't simpler versions out there for us.
What brought about this sudden obsession? Well, it all started in Fry's Electronics.
After going to Fry's with my father to buy a SD Card for my phone and seeing no less than 10 women wearing the peacoat with such fabulousity it would make Holly Golightly jealous, I decided to get one for myself.
There is a slight problem with this. Mainly being the fact that I am, indeed, broke. I've only got a pitiful $50 to my name and where on earth can you find a cute peacoat for that whelp of a price? Answer: Forever 21.
As I was perusing all the cute but most definitely flawed pieces of clothing at F21 (a favorite past-time of mine), I saw it. The peacoat. And
jeeze,
was it cute.
Does that look $40 to you? (God, I hope it doesn't..) and I quote, made of "46% wool! Dry clean only!"
It says dry clean only, right? That's a sign that it's top-quality, right? RIGHT.
What do you think of peacoats? Do you own one? What's your favorite type?